Why You Should be Selling Your Property This Christmas
Traditionally, many property sellers take a break from promoting their homes during Christmas season, but is it the best thing to do? Who knows Santa may come knocking on your door in the form of a buyer? It is the season of goodwill and offers some great opportunity for home sellers as the buyers are cheerful and the competition is less. Here's why you should be selling your home at this time, followed by some useful tips on how to draw potential buyers to your house and impressing them.
Benefits of Selling Real Estate During Christmas
If a person is seriously interested in buying, he won't mind coming down to check the property, irrespective of what month it is. In fact, the holiday period will give him extra time to explore and consider his options, which means you can sell your house faster during this season.
1. There is less competition
Most homeowners consider taking their homes off the market during Christmas as they don't want any hassle during the festival. Some even wait until the beginning of next year or spring to put up properties for sale. Such trends are good for you as you won't be competing with dozens of seller to grab the attention of prospective buyers. There will be more people coming to check out your property, both online and in person. Just make sure you are ready to entertain buyers if they decide to turn up.
2. Buyers are happy and motivated
If a person is ready to take out time from their busy holiday schedule to buy a house, he is a serious buyer or could be desperately seeking a new home. They may even be buying a property for tax reasons or could be relocating for their new job in the coming year. This motivation is useful for you to sell. No matter what the reason is, you can let them take a good look at your house by staying flexible with showing times. Make yourself accessible at all times and don't mind if you are asked to shift schedules as per the buyer's convenience. Remember that you are here to sell.
3. Your home is more welcoming
Emotions play a major role this season. They also help buyers make prompt purchases so you can capitalize on this fact by making your abode more warm and inviting during showings. Cheerful carols, tasteful decorations, no clutter and a well-decorated Christmas tree will allow the potential customers to feel at home. They can visualize their own family celebrating the festive season in this home next year.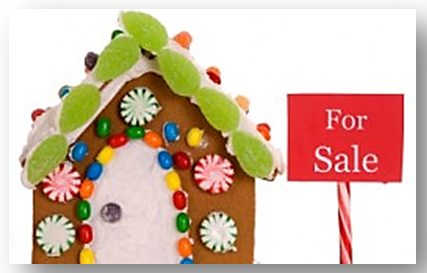 Tips To Draw Potential Buyers
It is festive season and your home must look celebrated. The less-is-more mantra can be adopted some other time. Let go and start decorating every nook and corner as its Christmas time – a time to embrace all festivities and greet potential buyers with a glass of wine and mince pies.
Make sure the house feels cozy while entering. Switch on the heating for inside viewings.
Understand the fact that viewings will take longer this season. So do your best to keep the buyers entertained.
Keep the selling process short by being legally prepared in advance.
Put bright Christmas lights around the placard saying 'For Sale'.
Christmas is not the best time to test the market so keep the asking price realistic.
Make sure you book as many viewings during day time for buyers to assess better.
It is vital to give your home a Christmas-y feel. However, do not go overboard with the decorations as that may hide the best features of your property.
Do not include the decorations while taking a picture of your home for marketing purpose. You don't want to restrict it to a particular season.
Hope the above tips will help you market your home better and sell it soon. Merry Christmas!
Author bio: Devika Arora is an avid writer who compiles relevant facts and analyzes the current state of affairs pertaining to real estate and its prospects. The above article discusses about selling your property during Christmas.