Let us first understand the purposes and usefulness of trim trails. You may have come across playgrounds or grounds reserved for physical activities where series of equipments are laid at intervals; this is an intense exercise regime that combines various types of exercises and physical activities. In between the equipments that are laid in trim trails there are running tracks that lies bare which allows an individual to find time before the next step or equipment. This form of exercises and structural layouts are commonly found in military academies and training institutes where regular physical training is imparted. This is also an effective means of evaluating individual performances and health fitness conditions.


Ideally you will see a combination of various types of hindrances in trim trails. In natural conditions there are high walls, nets for climbing and different levels of bars for high jumps. Then there are tunneled structures that demand a crawling movement to surge ahead and continue in the run. Hindrances are also created in the form of terrains and uneven land forms where use of water is also common. When we refer to trim trails there are different age groups and levels of physical capacity for which this can be developed or designed. There are manufacturers who understand client requirements based on their purposes and the trainees.
For instance if you are looking for trim trails for your school scout club or the students chosen for athletic categories of sports these will have to be prepared with certain aspects in mind. The first among them will be the age groups of the students who will be using trim trails and their average height and weight. Though there are manufacturers who offer comprehensive designs that are approachable both by adults and children it would be open to speculation. It may not seem possible from the outset that the standard designs and their height will be approachable for an average under 14 or under 16 kid. However it would be best to assess practically with proper demonstrations.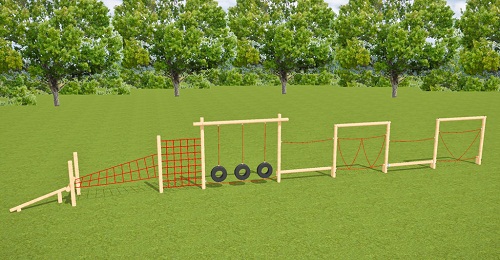 Browse online and you will come across various companies that offer manufactured and ready to install trim trails. These are made to order and cater to specific evaluative exercises or training programs you have designed for your trainees and students. The specification of the setup too will also be set according to average height, weight and the age group of the users. It was interesting to see there are different designs of trim trails available in graphical designs for illustration before viewers; these are also named accordingly and provide variations in the kind of equipments for intense exercise and fitness tests.
Trim trails can be a great way to increasing fitness. True if you have been out of practice there will be some time needed for body warming exercises that will increase flexibility. For this you may have the setup at home if you wish but there are trim trails stations too available in different countries. Whether you have one nearby will be available online – so check for one and you will know where to go. For many people this is an effective and alternate means of gaining fitness vis-à-vis the gym or the swimming pool. Trim trails are especially useful for children and those who aspire to join the defense forces or any sporting field.
17total visits,1visits today