Ideas to Make a New House Feel Like Home After Moving In
Even after moving to a new house, do you still feel a bit of uneasiness? Well, it is just a typical reaction that you might be having as you still miss your old home. It takes some time to move on mentally. Being an adult, you are much more capable of understanding the situation, but not your kids and other family members. It makes them feel sad, and people often reported some level of depression for a few days after moving. 
But there are various tricks you can use to ease the situation from affecting you. Here are some of the efficient ideas to make a new house feel like home after moving in.   
Get Back To Your Regular Routine
Your old routine plays a vital role in getting back to the way things were. One of the side effects of moving to a new place is we slowly slip away from our usual routine. During the packing and unpacking process, you hardly get time to follow your usual routine, which is understandable. The routine might include the time you wake up if you like to take a quick run or like doing yoga to get things going.   
But as soon as people move into their new place, they often find excuses not to be able to keep up on their old routine. As a result, your brain tries to contradict your new lifestyle. This is why you feel uneasy in the new place. You might end up second-guessing your decision to move into this place. 
Moreover, it's better to get back to your old schedule as it might affect all the other aspects of your life, including work. 
Try To Mimic Aesthetics of Your Old Home 
People often feel uneasy in a new home as everything is new and unfamiliar, especially kids, older people, and pet animals. And why won't they be? They know nothing about this new house, and it might take some time to get used to things.
Try to keep things as accessible as they used to be. The place you keep your keys, bags, and coats should be similar to the previous house. Otherwise, you'll find it a bit annoying. 
People relate to different things to call a place in their home. For a kid, it might be a cuckoo clock that sings every half an hour. And it may differ for every person in your family. Try to replicate the way things used to be at your previous place. It includes how you designed your living room, how things were arranged in the kitchen, where you keep your extra luggage, and other things.  
Unpack All Your Favorites and Get Comfy
The best way to overcome the overwhelming feeling of missing your old home is to unpack the things that get you all comfy and makes you happy. If you have just moved into your new home with all the things still unpacked, start unpacking the things that get you at ease, like a sofa, pillow, sheets, and more. Moreover, there is nothing more soothing than your bed and pillow.
You might be exhausted after all the hectic moving experience. While you can always take the help of house removalist Currumbin to ensure hassle-free move, how about some music to soothe your nerves and relax? If you have a guitar, take it out, play some good-old music and ask all your family members to join in. 
You can start by decorating your house with all the antique china, souvenir, and other prized possessions that were a part of your old home. For best results, you can spray the scent that your old home had, as it will make you more accustomed to the new place.
Hang Photos And Art That Remind You of Old Home
People often collect wall art and various other treasured collections to put up on their walls. If you have had wall art at your previous home, then that's the reason that you are missing your old home. You look up at the walls, and there's nothing! How about you unpack all the wall art to decorate your home? 
Apart from all the wall art, you can also hang the photos of loved ones that remind you of your home. The epitome of what we call a 'home' lies in the loved ones with whom we have shared different spectrums of emotions. And not just the photos and the wall art, it could be anything from the furniture to an empty box. These objects have an extraordinary ability to exude a sense of comfort upon sight.
So, whatever gives you a feeling of belonging, unpack that first to make it at home.  
Get Some Houseplants in Your Home
It's no surprise that the presence of plants in any house serves as mood inducers and reduces stress. Since ages, people entertain this habit of keeping a houseplant in their home. Not only it filters the air in your room, but it also creates positivity in your home. Humans find it comfortable around plants and trees as they get close to nature. This is why most people keep lots of plants on their terrace and balcony.   
But this doesn't mean that you will have to get an expensive plant like an orchid or a Ficus. You can buy some less expensive flower plants to accompany your home, like pot herbs in a mason jar. It's a typical plant setting that people keep on their kitchen windows. So, if you are feeling a little uncomfortable in your new home, get some house plants and let your home breathe.
Allow Maximum Exposure to Sunlight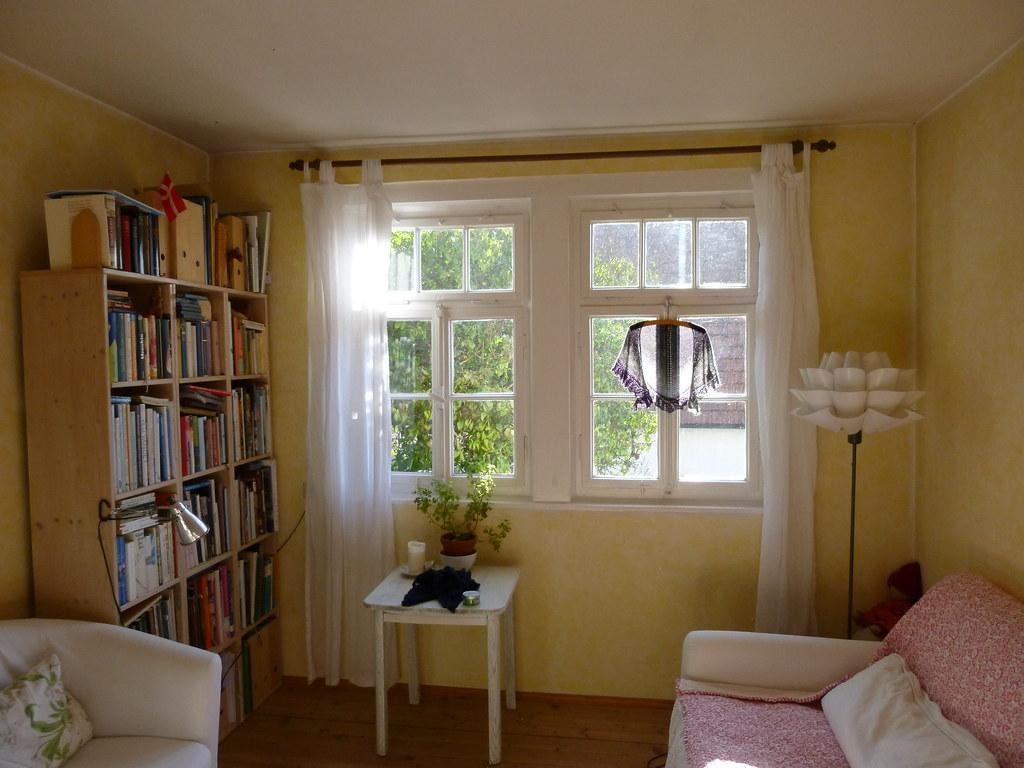 Flickr
You are bound to feel uneasy at your new place if your house doesn't have sufficient exposure to sunlight. Light plays a crucial role in setting a good vibe in the house. If your previous home had more opening to natural light in comparison to a new place, you might not like your new home at all. You can't replace the natural light by using lighting fixtures. It doesn't create the same ambiance like that of the sunlight.
Natural light brings a kind of positivity that is hard to mimic by any other method. Now, if you are left with no options and you are using additional lightings to make it look homier, you need to be precise with your lighting choices. You can use dimmer lights to balance the strength of lighting based on your mood.  
Set Up Your Entertainment Center
If you have kids, then you must be prepared with all the essential things that keep them occupied while you set up your home. Your kids might not be able to handle the home moving experience as maturely as you do. You must get your TV set up with an internet connection for all the entertainment they need. 
Just let them do what makes your kids happy, and they will eventually get used to their new home.
Host a Casual Party for Family and Friends
A home doesn't feel home unless it is filled with all your family, friends, and loved ones. Well, what better way there is, then to host a house warming party at your new place. Such activities always help you to get accustomed to the new environment.
Conclusion 
People often consider the house items shifting as the most uneasy part of the home moving experience. But getting used to the new place is not an easy task to pull-off as well. If you have a family with kids, moving to a new place might get even more challenging. The ideas mentioned in the article will help you get used to the new environment.