Simple Guide Leasing a Business Car
Leasing a business car could be quite beneficial. If you have a good credit score, you could obtain a car with absolutely no down payment. You would also realize that your monthly payments would be much less that what you would have to pay had you purchased the vehicle, instead. Moreover, you could enjoy some tax benefits by leasing a business car. You could also return your car when the lease term is over and choose a newer model. Leasing a business car and turning in your car for a new model when the lease contract is terminated could mean tax advantages.
Leasing a vehicle that would be used by your small business could be treated almost similar to obtaining a vehicle for yourself, just that it would be coming with different terms and conditions. The leasing firm must accept that you would be allowing your employees to use your business car along with yourself. This may mean higher cost. As you are building up your business and increasing the number of leased vehicles, the lease financing firm could be offering you much better rates. So how are you supposed to lease a business car? Here are the few steps to be taken for obtaining a business car lease.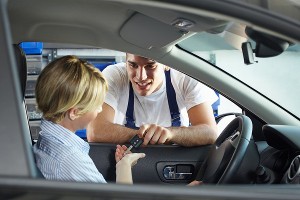 Step 1 You need to examine your individual credit report and make rectifications if any mistakes which could hamper acquiring a business car lease. You must do a thorough scrutiny of your own business credit report also if you have already established business credit. Most of the major credit bureaus would be investigating any issues reported by you and rectify the errors.
Step 2 You would be required to provide financial statements and tax returns including an income statement and a balance sheet. However, there would be some leasing firms that may ask for personal financial statements, as well as, a list of all your account receivables and payables.
Step 3 Get ready with a proper list of things to be offered as collateral. After evaluating your credit score along with some more factors, you may be asked to provide collateral for qualifying for any business lease.
Step 4 Do ample researches to identify the kind of vehicle you would be interested in leasing. You should look for adequate information and details regarding car features and depreciation simply by browsing through the car manufacturer websites. You could alternatively browse through www.leasequit.com for more information.
Step 5 You should visit your nearest car dealerships and talk to a representative of the business sales division of the company. Discuss everything you wish to know about the entire leasing process and transaction. He should be able to provide you all the relevant information for your business car lease.
Step 6 You should see all the available vehicles and evaluate them in terms of your business requirements. For instance, if your business would be requiring this car for transporting goods, you should consider a large vehicle like a van. If you need this car for picking up clients for business meetings just to impress them, then you must opt for a really luxury car. If your vehicle would be required to transport employees from one site to another, you could opt for an economy model. While choosing the business car for leasing, you must keep in mind the overall economy and gas efficiency of each vehicle. You must lease a business car only if your small business is in a position to afford all the maintenance costs involved.
Step 7 Examine all the business lease alternatives offered by your car dealership. Commercial car leases mostly are open-ended. The car lease financing company would be estimating what the actual worth of the car would be at an end of the lease. This would be much lesser as compared to a personal vehicle lease. This is simply because the experts are anticipating more usage and wear and tear involved in terms of the car that is used mainly for commercial reasons. Moreover, the monthly payments are bound to be relatively higher in such a situation. Examine if the car lease offers any buy-out option that would be letting you retain the vehicle after the lease is officially terminated. Find out what amount would be charged as down payment for any business car.
Step 8 You need to examine and calculate all the fees relating to the business car lease including exceeding mileage limit, too much wear and tear and the costs involved if the vehicle is damaged. You have to examine and evaluate if your small business set-up is actually capable of managing the risk and the costs involved.
Step 9 Finally, you need to fill out the relevant commercial lease application when you have made up your mind about leasing a business vehicle. You may have to put in an application for the car lease along with your precise Social Security Number. You may be required to provide some relevant business, as well as, personal information. Scrutinize the final terms before signing the lease agreement.
Conclusion You must consider consulting an accountant at tax time. There could be a possibility of deducting a part of your business car lease payments on the business tax return. However, you should never sign your own name on a business car lease. Remember, if you are signing your name on the lease contract, you are ending up leasing the car personally.
Author Bio: Mark Edberg is a financial expert, debt-relief counselor, and advisor at a private consultancy firm. He also runs a public-interest blog about wealth management where he shares articles and useful links.