Top Best Pink Carnation Flowers for Your Loved Ones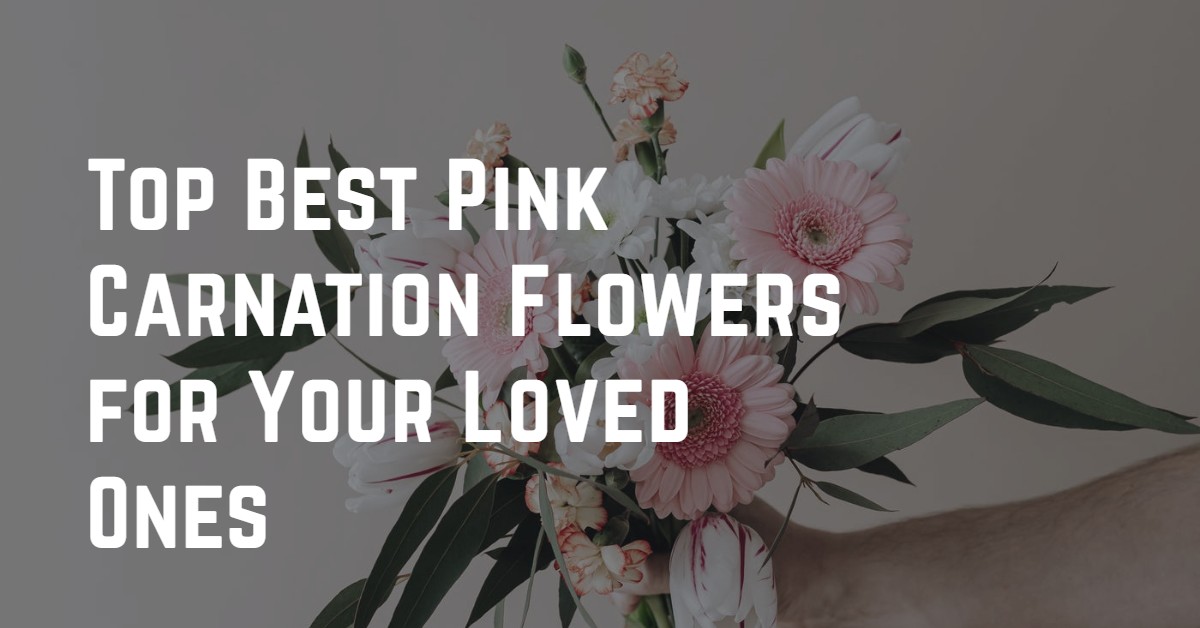 Different varieties of Carnations are planted in different parts of the world. While some varieties are purely ornamental, others are both ornamental and medicinal. Most of these plants are easy to maintain and tolerant of heat.
The floral arrangements pink carnations make are out of this world. Here are the glamorous pink carnation flowers to consider when buying a loved one a floral gift:
1. Chinese Pinks
As the name suggests, Chinese Pinks or dianthus Chinensis is native to China. They flourish in less humid regions with alkaline soil. The leaves are relatively long and slender. Much as they are native to China, Chinese pinks are grown in temperate regions around the world. This pink carnation flower makes excellent floral arrangements for different occasions.
2. Dianthus Armeria
Yet another tremendous pink carnation that can beautify your home garden immensely. Also known as the Deptford pink, this flower is native to Europe. Hairy bracts resembling leaves enclose the pink blooms. The petals have saw-toothed edges. Just like the bracts, the leaves are also hairy. Besides, they are slender and deep green.
3. Sweet William
The Sweet William flower is native to Europe. It grows to a height of up to about 36 inches. The blooms sprout in thick bunches at the top of the umbels, and the petals are notched. Besides, the flowers have nectar that attracts pollinators like bees, butterflies, and birds.
Propagation is either by cuttings or seed. Soil with mild alkalinity is the best for growing Sweet William. Removal of dead leaves promotes blooming. If you want to show a loved one that you appreciate their kindness, consider Sweet William.
4. Dianthus Plumarius
Dianthus Plumarius, also known as garden pink, is an excellent ground cover. Its height can go up to 24 inches, and the stem is green. The leaves are simple and evergreen. It is hermaphrodite, i.e., has both female and male parts. Insects are the primary pollinators of Dianthus Plumarius. Besides, and it requires plenty of sunshine to flourish. 
5. Dianthus Deltoides Maiden Pink
These short-term perennials also act as ground cover and are native to Europe and some parts of Asia. The leaves are slender and evergreen. The flowers are sweet-scented, and a variety like the arctic fire can tolerate heat. Warm and sunny weather is ideal for the plant to bloom well. Maintaining it is relatively easy because you only have to remove dead flowers. Once established, the plant grows faster than most weeds.
6. Cheddar Pinks
This perennial carnation flower produces a lovely pink flower. Cheddar pinks bloom in summer and grow well in well-drained soil. Root rot is a common problem if the soil is not adequately drained. They provide excellent ground cover in a flower garden due to their short stature. Also, they are drought-resistant, and their bloom smells pleasant. Anyone receiving them for a gift will be glad.
7. Dianthus Pavonius
The beautiful carnations have short stems that rarely grow beyond a height of 10 inches. Foliage color is green with a blue touch, and the bloom is a mix of purple and pink. The central part of the bloom is brown in most cases. Dianthus Pavonius Grow well in well-drained soil and plenty of sunshine. Besides, they are drought-resistant and evergreen.
8. Dianthus Pinball Wizard
The dianthus pinball wizard is a perennial flowering plant. The flower heads are large and smell like cloves. Blooming takes an extended period, and the plant can tolerate drought. That makes it a great summer carnation flower. Even though it is an evergreen flower, extremely low temperatures result in a drop in foliage. Also, the flowering period is long, and maintaining the plant is easy and less expensive. It is advisable to cut off old stems after flowering to promote reblooming.
9. Dianthus American Pie
This carnation flower produces lovely blooms that last long. You can grow the Dianthus American pie in your home flower garden or even in pots. What's more, they are tolerant of both hot and cold weather. It is one of the pink carnation varieties that produce large flowers. Also, it is known for its ability to tolerate both hot and cold weather. However, cooler temperatures extend the blooming period and improve the flower's color quality.
10. Dianthus Neon Star
The dianthus neon star is an evergreen carnation flower that produces blooms with the scent of cloves. The plant often blooms in summer and grows to a height of up to about 7-8 inches. However, regular removal of deadheads makes them bloom from late spring to late summer. They are relatively easy to maintain and can grow in pots, rock gardens, and borders. It grows well in alkaline or neutral soil and sufficient sunshine.
11. Dianthus Superbus
The Dianthus Superbus is another sweet-scented carnation flower. It is also referred to as the fringed pink, and bees like this plant from its sweet nectar. Besides its aesthetic value, this carnation is also edible. It holds out to both cold and hot weather. If you are looking for a summer carnation flower, Dianthus Superbus won't disappoint.
12. Dianthus Caryophyll
This is a perennial carnation flower with narrow leaves, either blue-green or grey-green. The flowers are sweet-scented with pinkish-purple shade. They can be in a cluster of up to five flower heads or single heads. Blooming often comes in summer. Proper blooming requires full sun.
Other Uses of Pink Carnations
Pink carnations come in different varieties used in beautification and conveying different messages to loved ones. However, some varieties are edible and medicinal. They are boiled in water, and the infusion is used in managing several health issues. Oil extracted from seeds is used in beauty products like body lotions and jellies. Flower petals are used as an accompaniment in salads and desserts.
Final Words
You are thinking of the perfect pink carnation floral gift to give a loved one? There is a plethora of options to choose from and cheer them up. Try any of the twelve varieties we've covered in this article. What's more, you can try to grow some in your home garden and transform your home into a glamorous space.