Complete guide on water flow switch and how does it work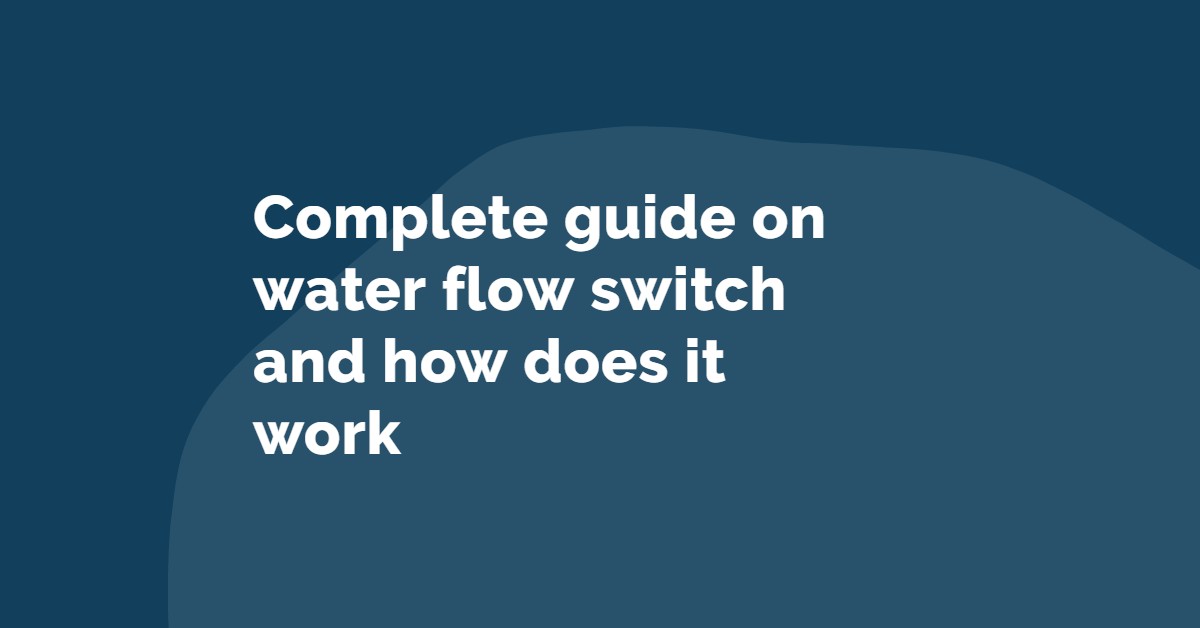 A water flow switch is a device you can use in monitoring the flow rate and pressure of liquids. Water is an essential resource that needs proper usage. To control the amount and reduce misuse, you need a water flow switch. Besides, if you run an industry, you will require water for various purposes. To get it right on the required quantity, you will have to use a water flow switch.
Many water flow switches exist. So, it will be crucial to find the one that meets your specific needs. But you can be sure a water flow switch will offer you accurate results when it comes to flow rate.
Components of a water flow switch and how they function
Primary device
The primary device is connected to a circuit installed in the channel through which water flows. The paddle wheel in the primary device rotates once the liquid flows. The passing of the liquid and rotation of the paddle creates signals. The signals formed are sent to the transducer.
A transducer
This is a secondary device that receives a raw signal that comes from a rotating paddle. Once the transducer receives the signals, they are transmitted to the transmitter but in a format that can be read.
A transmitter
This is another crucial component of a water flow switch. The transmitter receives the signals from a transducer and gives the liquid flow rate based on your set parameters. Since you had set a limit of flow, the transmitter will sanction any action needed within the water flow switch system.
When the flow rate goes beyond or drops against the set rate, your water flow switch triggers a series of actions. The actions may be powering your pump or activation of an alarm. Your water flow switch can even shut off parts of the flow system. It may also result in diverting flow to keep the system functioning as required.  
 But remember, any action performed by the water flow switch depends on the type of switch you are using. The action is also determined by what your switch has been designed for.
Installing your water flow switch
You will find several water flow switch types. So, there is a wide range of flow switch installation methods. It's vital to know the type of water flow switch you are using and its purpose. That will help you to get data on how to wire for effective functioning. But there are basic rules you need to keep in mind when installing water flow switches. They include 
Installation of a water flow switch on a straightened section of your pipe.

We are maintaining an adequate length of straight pipe. That should be behind your switch and in front.

Don't fix your water flow switch near bends.

Your devices should also not be placed near other fittings.

While installing the water flow switch, keep it away from drains, valves, broader and narrower parts of your pipe.
Testing of the water flow switch
Testing how well the water flow switch can function will also depend on your switch's type and purpose. Ensure you know what you are testing for. That will help you to understand how best to test your water flow switch. 
You may test your water flow switch by observing it's working according to the expected results. Is it giving the correct response that is triggered if the flow stops or begins? For some water flow switches, you are not able to test through observation. That will require you to use a device that can measure the resistance of the switch's electronics. It helps to ensure there is a complete circuit displayed after you activate the water flow switch.
Common types of water flow switches
1. A paddle water flow switch
This is a switch that depends on a physical probe to find the rate of liquid flow. The paddle hangs in the duct via which water flow passes. Paddles are triggered to rotate by incoming water. The paddle's rotation speed will depend on the speed of inflowing water. As the paddles move, they create signals that are then changed into readings and necessary actions.
Advantages of this water flow switch
A paddle water flow switch is reliable and can offer consistent results.

A bit cheaper compared to other switches.

Easy to install
Cons of the paddle switch
But it can easily be affected by foreign objects. 

You will have to incur a higher cost of maintaining this type of switch due to tear and resulting from moving parts. 

The buildup of residue in the flow system will lead to inaccurate results.
2. An inline water flow switch
It's a water flow switch that is an integral part of the flow system. Once you install it, it becomes permanent. It will cost you more to buy this type of switch compared to others. Besides, it's complex to install. The advantage of using this water flow switch is that it only requires a short straight run section to work best.
Other flow switches you may consider
Magnetic water flow switch

Sprinkler flow switch

Flow switch for water pumps
Conclusion
Get a water flow switch that will give you good feedback. A water flow switch is vital since it can help to control the usage of water resources. Besides, you are using water in your industry; getting it right when it comes to the quantity required is vital for quality purposes.