Jamaica, the Caribbean paradise makes for an excellent holiday destination. It is home to several gorgeous beaches, waterfalls, and plenty of other attractions. With relaxing vibes and finger-licking food to offer, vacations in Jamaica guarantee plenty of excitement.
If you are looking to visit the island country but the seemingly exorbitant costs are holding you back, consider taking a travel loan to make your dreams come true. When you choose a travel finance, a significant portion of financial stress eases off, helping you enjoy your trip without compromising on quality.
This article suggests top places in Jamaica and some travel tips to help you on your trip.
Five Amazing Places to Visit in Jamaica Within Budget
Situated on the island's west coast, Seven Mile Beach is one of the most popular places to visit in Jamaica. Enjoy a leisurely stroll with your loved one or witness the sun go down the horizon. There are also numerous water-sporting activities like glass-bottom rides, scuba diving, and catamaran cruises you can enjoy.
This was the first fort built in the city of Port Royal between 1650 and 1660 by the English after they captured the island. You can also check out the quaint museum located inside the fort.
Home to Jamaica's most celebrated musical legend, Bob Marley, the Bob Marley museum attracts hordes of fans from across the world. The museum also features his former recording studio, which is now transformed into an exhibition hall.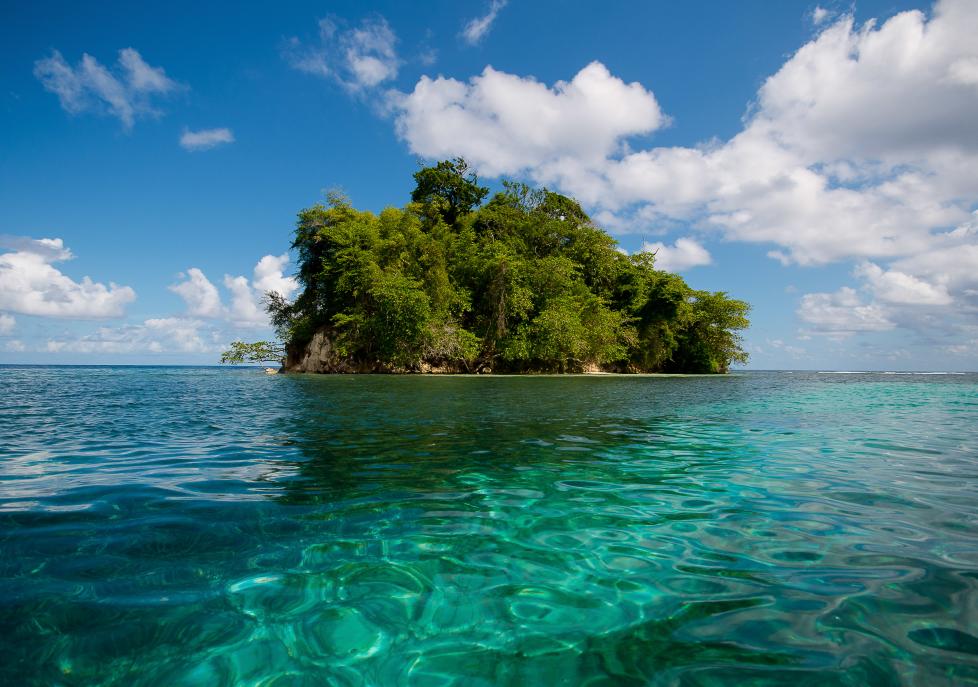 This is one of the most breath-taking natural attractions in Portland, Jamaica. The lagoon is about two hundred feet deep and features clear turquoise waters surrounded by lush greenery. Enjoy diving into the bay or swinging on tree vines.
The Blue Mountains is the highest mountain range on the eastern side of the island. The legendary mountain range can be seen from any location in Kingston and stretches across three parishes in Jamaica.
Read More: Here's How a Travel Loan Can Fund your Next International Vacation?
Travel Tips to Consider On Your Budget-Friendly Trip to Jamaica
Norman Manley International in Kingston and Sangster International in Montego Bay are the two international airports offering direct flights with easy accessibility.

There are coaches, taxis, rental cars, and buses to travel to and from the airport. Most hotels can arrange for you if requested.

Outside Kingston, the bus services are mostly unscheduled. Route taxis are shared with other passengers in quite a few country areas. It is advisable to find out the fare to your destination before you board a taxi.

Many hospitals/doctor's offices do not permit entrance if you are dressed in shorts or sleeveless shirts. Most businesses also post dress codes as a notice on their premises.
Conclusion
Travel finance can be an excellent option to fund your international trip without putting too much financial burden on yourself. It can take care of additional overhead costs or basic expenses such as hotel stays, tickets, and food expenses.
If you wish to embark on an international trip and need a travel loan, you can avail a personal loan for travel from Bajaj Finserv. It offers instant loans with lesser paperwork and lower interest rates. Additionally, there are other pre-approved offers on personal loans, home loans, and a host of other financial products. These offers not only make the loan processing simpler but also help you save on time. You may share some necessary details and check out your pre-approved offer.
Read More: HOW TO GET LUXURY HOLIDAY IN JAMAICA WITHIN BUDGET?