Hits: 0
Top 5 Latest Designer Salwar Suits of 2020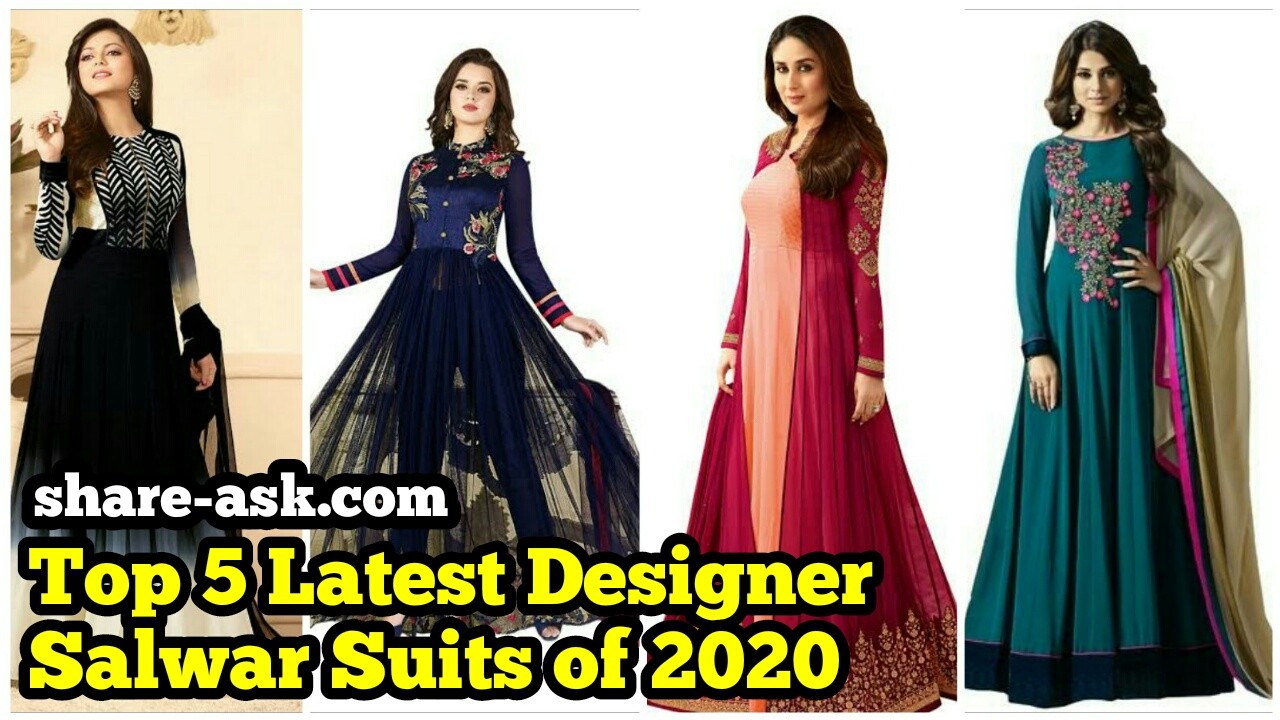 Salwar Suits are always in trend as a traditional wear for most of the Indian women. Most of the females want to wear the latest designer Salwar suits in trend. Salwar Suits are more comfortable than saree and better choice for those females who prefer tradition instead of western dresses.
For those who don't know well about Salwar kameez. Let me tell you, Salwar Suits are basically knows as Salwar Kameez. Salwar is the bottom wear and Kameez is an upper wear. In Addition, there is a scarf known as dupatta.
Now, Let's come to the main topic which is Top 5 Latest Designer Salwar Suits. Salwar Suits come in different styles. It depends on your choice which type of style you want to wear apart from regional styles. For example, Punjab is famous for its Punjabi and Churidar Salwar Suits.
Top 5 Latest Designer Salwar Suits.
So, 5 Latest Designer Salwar Suits of different styles are listed below.
Anarkali Salwar Suits.
Chudidar Salwar Suits.
Bollywood Style Salwar Suits.
Embroidered Salwar Suits.
Lucknowi Salwar Suits.
We will see the latest designer Salwar Suits in these styles one by one.
1. Anarkali Salwar Suits.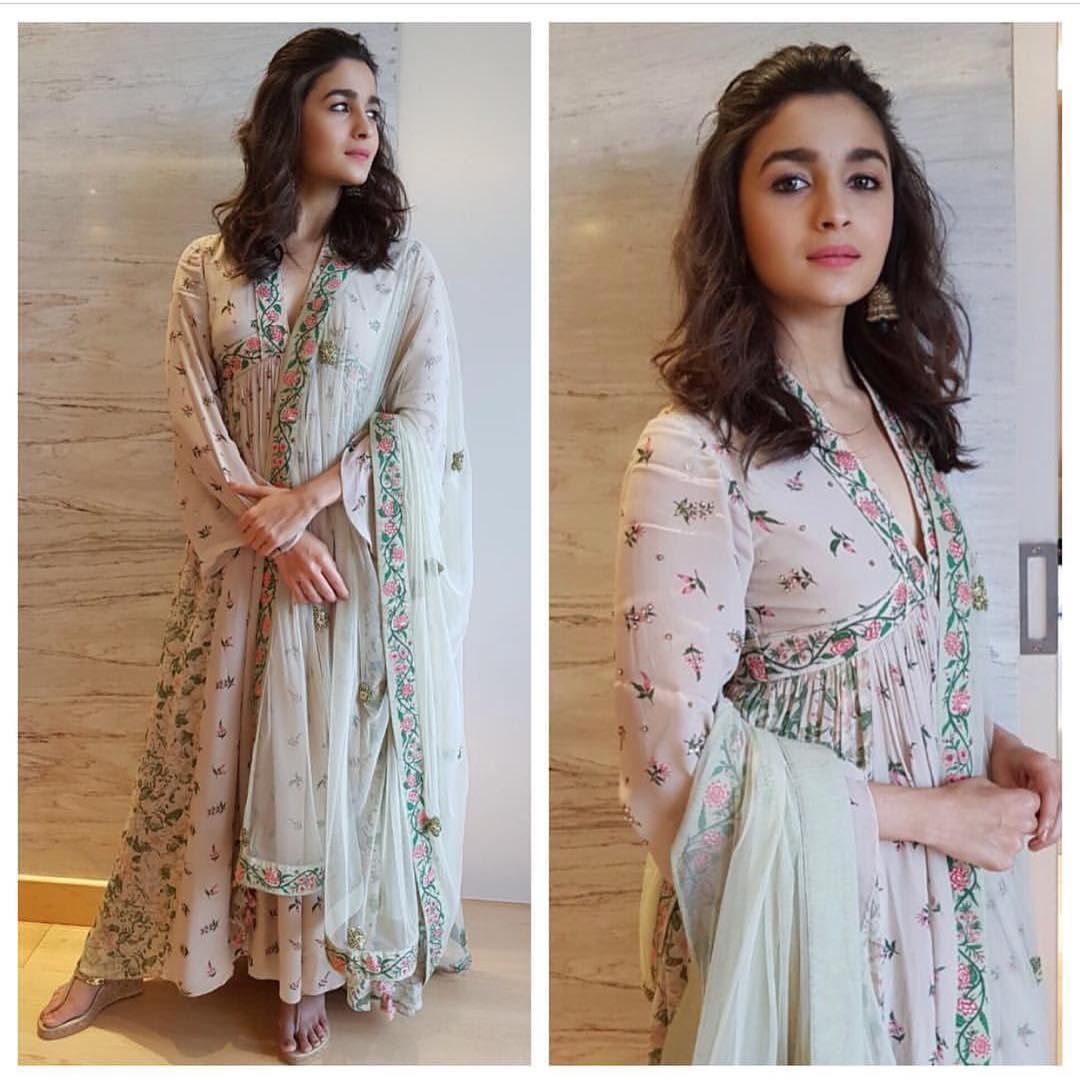 This one is the latest designer Anarkali suit. This Anarkali suit is of the latest design suitable for summer season which has arrived. Anarkali suits are basically long in length gown type. The neck pattern of this Anarkali suit has embellished border. It is better suitable with light makeup. If you are tall then high heels would not be required but if you have average height then try it with high heels if you like. The scarf (Dupatta) is made of silk with pista green colour with digital printed work.
Design: Nikansha Designer Bollywood Anarkali Salwar Suit.
Fabric of Suit (Kameez): Georgette with digital print.
Color of Kameez: Grey and pink.
Fabric of Salwar: Santoon.
Color of Salwar: Grey
Preferred Occasion: Daily Wear and small family functions.
2. Churidar Salwar Suits.
Churidar Salwar Suits are so special and simple yet beautiful and designer suits. Churidar Salwar Suits resemble Pubnjabi style Salwar suit but the only difference is slim and long salwar. Salwar is narrow from top to bottom and forms wrinkles like rings at bottom of it near ankle just like narrow trousers. Either you like to be simple or fashionable Churidar Suits are suitable for every women.
There are some other important things in Churidar Salwar suit which are neck designs and sleeve designs. Churidar Neck designs are of different kinds and there are three or four designs common for sleeves. This one is a beautiful Green coloured georgette and satin Churidar Salwar suit worn by famous Kareena Kapoor. Celebrities are always up to date with fashion styles and ongoing trends. Its scarf is green light in colour with embroidery work on both scarf and kameez.
Design: Aesthetic Churidar Designer Salwar Suit.
Fabric of Suit (Kameez): Satin and Georgette
Color of Kameez: Green.
Fabric of Salwar: Georgette and Satin.
Color of Salwar: Green.
Preferred Occasion: Party Wear.
3. Bollywood Style Salwar Suit.
Bollywood Salwar Suits are trend setter because of celebrities wearing the latest designer suits. Celebrities have their own personal fashion designers who design for them. So, This one is a black faux georgette salwar suit with beautiful designs and patterns. Fine work of embroidery,  Resham, stones and zari has been done on this Bollywood style salwar suit. Scarf and Salwar are same in fabric and color.
Design: Trendy Designer Bollywood Style Salwar Suit.
Fabric of Suit (Kameez): Faux and Georgette.
Color of Kameez: Black and gold.
Fabric of Salwar: Faux and Georgette.
Color of Salwar: Black and Gold.
Preferred Occasion: Festival, Weddings and Party.
4. Embroidered Salwar Suits.
Embroidered Salwar Suits are heavily designed suits with embroidery, sequins, resham(threads), stones, etc. These Embroidered suits gives you a royal feeling. There might be heavy or light embroidery all over the fabric as it completely depends on your choice. This heavy embroidered long Salwar suit in beige colour looks royal. This suit is suitable for those women who have good body weight and posture. Taller height will be better if you are choosing this one. Furthermore, Fabric of both Kameez and dupatta is net.
Design: Beige Embroidered long Salwar Suit.
Fabric of Suit (Kameez): Net.
Color of Kameez: beige.
Fabric of Salwar: Silk.
Color of Kameez: beige.
Preferred Occasion: Weddings and Royal parties.
5. Lucknowi Salwar Suits.

Lucknowi suits are known for their chikan work in embroidery. Lucknowi suits have fine work with sequils and specially chikan thread. Most of the celebrities are fond of lucknowi suits. It's my personal experience when I met priyanak chopra came to but lucknowi salwar suits from my uncle's sewa chikan shop.
This one is a white colour georgette lucknawi salwar suit with heavy embroidery of chikan thread. It is a plazo type lucknowi salwar suit. Kameez, Salwar and duppatta all are in same colour and same fabric.
Design: White Plazo Embroidered lucknowi Salwar Suit.
Fabric of Suit (Kameez): Georgette and Chikan.
Color of Kameez: White.
Fabric of Salwar: Georgette and Chikan.
Color of Kameez: White.
Preferred Occasion: Festivals and Daily Wear.
Things to Consider while choosing Salwar Suits.
Neck Designs
There are over 20 – 100+ Neck designs for Salwar suits and many more depends on of different designs and your choice. There are Churidar neck designs for churidar salwar suits, kurti neck designs, etc. Some neck designs are boat neck, frill neck, off shoulder, v neck, round neck, square neck, cold shoulder, etc.
You should watch  front and back neck designs if you are comfortable with those designs. A salwar suit might be good but their neck designs mught be catchy.
Sleeeve length and designs.
Sleeve lengths are variable and have different designs. You migh choose according to your own choice whether you are comfortable with full sleeves or sleeve less. Four basic sleeve lengths are full sleeves, half sleeve or elbow lenght, shoulder-length, sleeve less.
Salwar design
Salwar length is always full so there is no variation in that but there are different designs for it. In churidar Salwar suits, Salwars are long and slim like narrow trousers. In Punjabi Salwar they are too wide at top and less wide at bottom with frills or plates. Plazo have too wide Salwar at both bottom and top. So, Choose your Salwar suit wisely.